Ricky Clarke Hairdressing uses Olaplex

Olaplex is a three step system that repairs and helps prevent further damage to your hair. So confident are Olaplex that they say that theirs is the only system that 'Rebuilds broken hair bonds' and at the Vogue Beauty Awards 2017 Olaplex won the coveted 'Best product for treated hair' award. The product was developed by 'garage chemists' Craig Hawker and Eric Peressly (see more from them below)
If you have damaged hair, no matter what the cause, using Opalex products, our trained hair technicians will 'show some love to those locks' and get your hair back on the road to recovery.
You can choose from a Stand Alone Treatment or select to use Opalex products during a routine appointment. For badly damaged hair we recommend purchasing Opalex No.3 to use once a week at home to maintain healthy looking hair that feels great.
The three step system - products:
Olaplex No. 1 – 'Bond multiplier' – begins the process of preventing damage and repairing hair. Can be used stand alone or added to lightener, colour or chemical services
Olaplex No 2. – Bond Perfector – the second step to restoring strong, shiny and healthy hair. Apply after shampooing. Using lightner or rinsing colour from your hair
Olaplex No 3 – Hair Perfector – for use once a week at home – the final step in long term hair care and strengthening.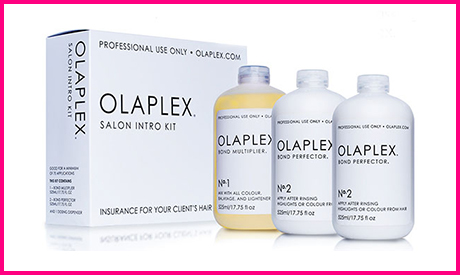 To use Opalex no. 3 at home wet your hair, towel dry and apply from the roots to your ends. The longer you leave it on the more effective the treatment.
Opalex no. 3 is not a conditioner but a bond multiplier so when the bonds of your hair have been damaged – Opalex no 3 will concentrate on repairing the bonds!
A final word from the scientists to explain how Olaplex works.. 'Hair is a naturally occurring polymer think of it like a rubber brand that over time will get brittle and break. Olaplex takes your hair back to the state of the new band strong and flexible.
To find out more about Olaplex and how it can repair your damaged hair speak to one of the stylists at Ricky Clarke Hair and Beauty. You can book an appointment on 01273 696995.